We are proud to announce that GateHub (team in Slovenia) is the first generation of companies that received The Advanced Socially Responsible Employer Certificate on May 16, 2022. Among all companies that have received this certificate, only six were awarded the advanced one and we are one of them!
In Slovenia, almost 200 companies are committed to obtaining the Socially Responsible Employer Accession Certificate,  with only a few of them receiving the Advanced Certificate this year. We are honoured to be among the top six companies of the first generation that received the Advanced Socially Responsible Employer Certificate! Beside that we are one of only two companies in Slovenia committed to all four key areas of corporate social responsibility: the organisational management, intergenerational cooperation, work-life balance and safety in the workplace.
The received certificate was issued by Ekvilib inštitut, a non-profit organisation which encourages companies to participate in all activities linked to social responsibility and therefore develop sustainable business practices in accordance with ISO 26000 Guidelines.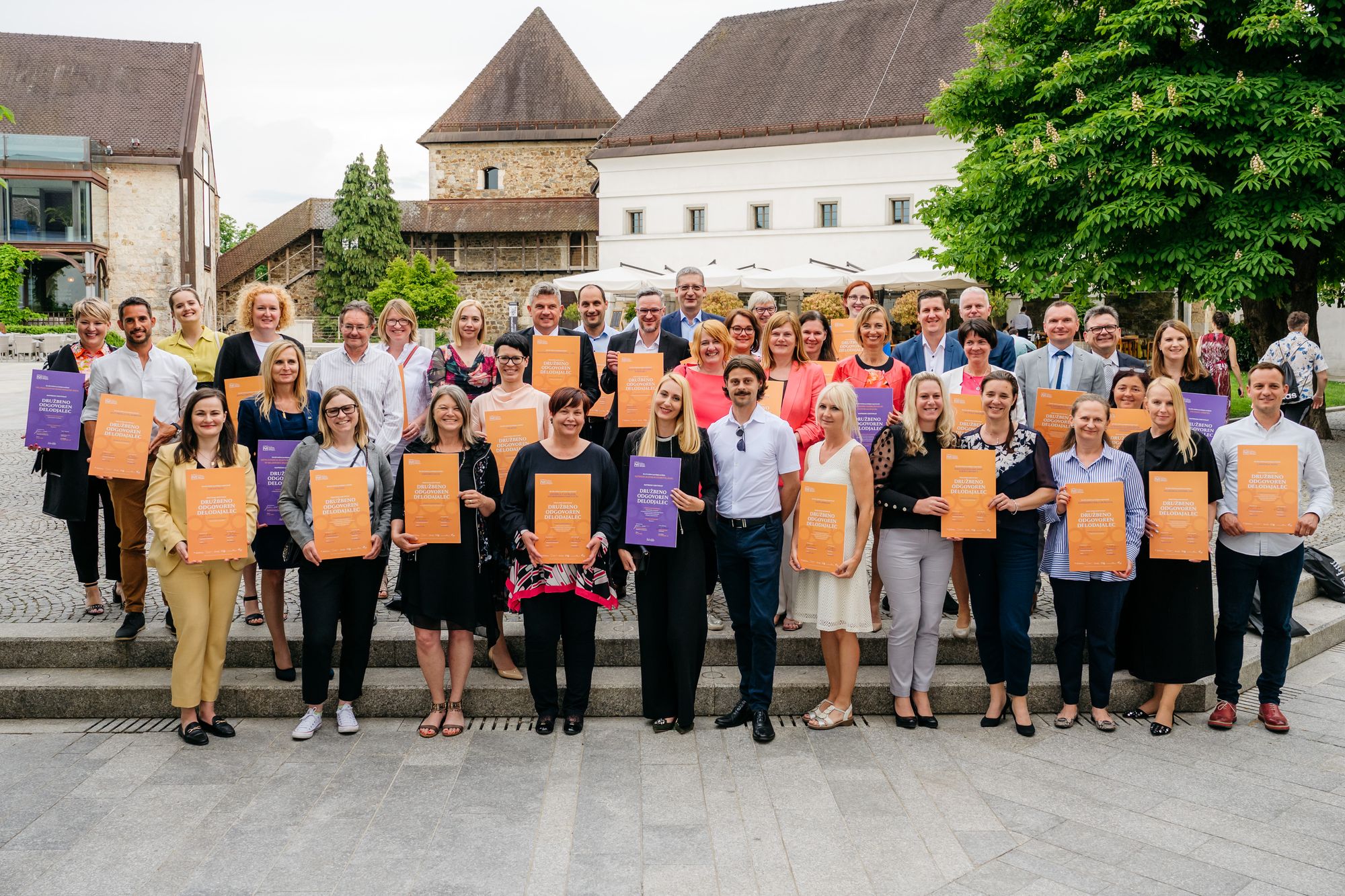 How to develop a socially responsible company easily and successfully
We see sustainable behaviour as a constant in our business and believe that socially responsible companies have many competitive advantages. For this purpose, we successfully implemented more than 60 measures and activities, among which the following proved to be particularly successful:
Dog-friendly offices contribute to a more active and enjoyable work environment. We invited dogs to become our new co-workers in order to promote well-being and socialising among employees. Dogs are bringing us extra joy, they motivate us to be more physically active and are also a good conversation starter.
A healthy work environment is a key to our well-being and successful work. We promote this in various ways, including promoting drinking water by providing bottles for hydration, promoting healthy eating with fruit always being available in the offices, taking breaks during work and exercising with our weekly office workout organised and led by employees etc.
A modern work environment has a positive effect on our well-being. Our offices are equipped in a modern business way, with the most popular feature being the relaxing room (still in the making), which has comfortable seats and a sofa, table games, table football and other accessories that allow employees to relax when taking time off during work.
A green work environment improves the air quality of the workspace and has a relaxing effect. Our offices have a lot of flowers and other plants that are nice to look at, but we also contribute to the environment by separating waste in waste separation islands (paper, plastic, biological waste, batteries, etc.). Even with small actions, each of us can act more sustainably. With this aim we always encourage employees to turn off lights, computers and other electronic devices when they are not being used.
Equal treatment of all employees is ensured in various ways throughout the entire employment process and in everyday work practices. Some of the measures we have taken are: all employees have the opportunity to attend different trainings and gain new knowledge; we have implemented weekly and bi-weekly 1on1 meetings in all departments, which build quality relationships between employees and their leader and represent a safe space where they can point out issues, concerns and other important topics; all employees have Growth Talk, where they plan their professional and personal growth; we communicate transparently through different channels and encourage honest dialogue. In addition to ensuring equal conditions for all, we also emphasise the diversity and uniqueness of our employees, which allows us to create an innovative work environment.
Work-life balance is an effective way of scheduling time, which we encourage and strive to provide the employees with enough time for themselves (hobbies, personal relationships, sports activities). We believe that only by offering work-life balance the employees can maintain motivation, enthusiasm and efficiency at work: "no overtime" policy (except in urgent, rare cases), a minimum of 30 days annual leave, and organising all training and education programs during work hours, etc.
Diversity and exchange of different perspectives - only through the exchange of different views and ideas can we together create coherent and innovative solutions. One form that is well established in GateHub is the mentoring system, which enables structured knowledge transfer, creating genuine relationships and connecting team members.
Donations and volunteering are the two important ways in which we return to society and actively support organisations and campaigns that reflect our values and work for the good of society as a whole. Every winter we organise a "Santa for a day" workshop where employees wrap gifts they will donate to the children and the elderly. We also make a larger donation once a year to support organisations that are helping the less fortunate and thus changing the world for the better.
The benefits that social responsibility brings us
You have read about some of GateHub measures that address sustainability and social responsibility and here is why this is so important to us. The benefits that social responsibility brings to a company are worth all the time we spent planning and implementing the measures. Beside better brand recognition that attracts and retains talent, we also noticed invigorated employee engagement, higher well-being of employees and enhanced professional and personal development.
It is so important that companies act socially responsible inside out and that is why we are immensely proud of all GateHub employees who are aware of the importance of creating a sustainable and socially responsible environment.