Fees are an integral part of the crypto space because businesses need a way to make a living. In blockchain fees are used to pay for processing transactions and to prevent attacks on the network. At GateHub we are transparent about our fees but due to operating on multiple networks, we know some may be struggling. This is why we want to break down the fees and costs associated with your GateHub account.

First off, your GateHub account is completely free. After that there are a few mechanisms that you should be aware of.

XRP Reserves
The XRP reserve is the "cost" of operating an individual XRPL wallet. Each XRPL wallet requires a "base reserve" of 10 XRP to operate. An additional 2 XRP "owner reserve" is required for each trust line or open order on the network.

The reserve is not removed from your wallet or paid to anyone. It is simply locked in your account and cannot be spent.

If you remove trust lines and close open orders you can unlock XRP up to the base reserve 10 XRP.

Idea: If you make a first deposit in fiat or crypto, GateHub will cover this cost. After an account is funded (meaning the base reserve is deposited), 10 XRP is locked in your wallet.
Transaction cost
The XRPL, like most other networks, requires a small amount to be paid in order to process a new transaction. Transaction costs on the XRPL are exceptionally low. An average transaction costs about 0,000015 XRP. This is paid for every action on your wallet (including posting an order or creating or closing a trust line). This is a fraction of a Dollar at the current XRP market price.

The transaction cost is not paid to anyone but burnt, which means that the supply of XRP is steadily reducing.
Transfer fees
Transfer fees only apply to transactions between two XRPL wallets in currencies other than XRP. If you are sending GateHub EUR to your friend's XRPL wallet, you will pay a small fee (0,2%) for this transfer. Transfer fees are a way for businesses to earn money from transfers and trades in their issued assets. You can see all our transfer fees here.

Withdrawal fees
A withdrawal is any payment made from your wallet on GateHub to any of our supported networks like Bitcoin, Ethereum, SEPA, Wire, etc.

When making a withdrawal, GateHub creates a transaction on the destination network for you and our withdrawal fees are used to cover the cost of transactions on the destination network.

Wallet Protect
Wallet Protect is an optional paid security feature for your XRPL wallets that includes Multisignature, Fraud Shield and Theft Cover up to $100k. Wallet Protect is a yearly subscription paid in one go.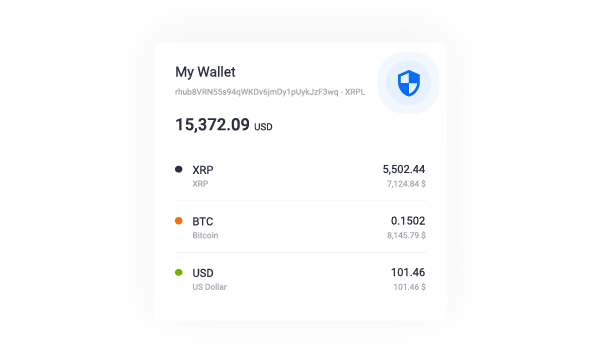 Free transactions
Some of your transactions on GateHub are completely free:
All deposits except International Wire deposits in USD
All transactions between your Hosted wallets
All transactions from your Hosted wallets to your XRPL wallets
Exchanges with your Hosted wallets
XRP withdrawals from your Hosted wallets

Cheap transactions
The XRPL has exceptionally fast and cheap transactions. The following transactions with your XRPL wallets only cost a fraction of an XRP (~0,000015 XRP):
XRP payments to other XRPL wallets
Enabling and disabling a trust line
Creating or closing an offer

On top of offering cheap and fast transactions for XRP, the XRP Ledger lets businesses like GateHub tokenize assets like Bitcoin on the XRP Ledger (a common term for this in DeFi is "wrapped"). These tokenized assets can utilize the fast and cheap infrastructure of the XRPL. A tokenized BTC can be sent in a matter of seconds for a fraction of an XRP in transaction costs.
---
Get started
---