GateHub allows you to add and remove wallets from your account.
In order to gain functionality, a new XRP Ledger wallet has to be funded with 20 XRP which cannot be withdrawn.
Please see our support article about the XRP reserve and other XRP Ledger network features.
GateHub discourages creating new XRP Ledger wallets unless entirely necessary*.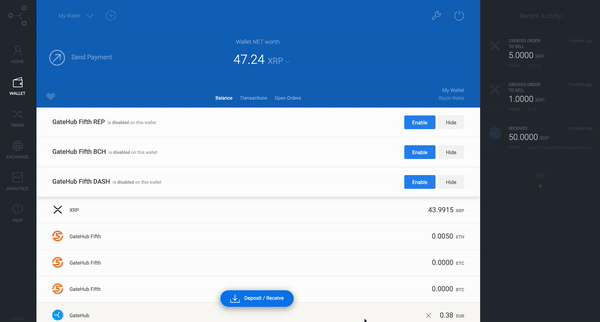 To create a new XRP Ledger or hosted wallet:
Go to "WALLET".

"Add Wallet" (+ icon to your upper left).

Enter your account password if prompted.

Choose "New".

Type in your wallet name (can be changed later) and choose wallet type.

Click "Create".

To remove a wallet from your account:
Go to "WALLET".

Click "Advanced".

Click "Delete" - confirm by clicking "Delete".

The primary wallet cannot be deleted.
Further information about your wallets on GateHub is available here.
Information about the XRP Ledger protocol and XRP Ledger wallets is available here.
* All created XRP Ledger wallets (accounts) are permanently stored on the XRP Ledger. Every new version of the XRP Ledger's public ledger chain contains the full state of the ledger.