One of our key aspirations at GateHub is to make any value available to anyone at any time. The Payment Services Directive (PSD and the revised PSD2) aims to better secure online payments, promote interoperability and innovation in online and mobile payments, and make European cross-border payments safer.

Open banking is a concept where banks securely share customer data with third parties through open standards and protocols over API. Banks have traditionally been slow movers when it comes to innovation. Open banking makes it possible for businesses to deliver new experiences with aggregated data.

How does open banking work?
It adopts the well known and established API model. Banks open their APIs to third-parties via authorized and secure connections. These third parties can act in various ways but in principle one set of such businesses will aggregate and repackage the data for use by the other set of businesses who offer the data to end customers in various products.

A hypothetical scenario would be a personal finance tracking app that uses an aggregator to collect the information and create analytics and reports about the financial habits of one user with multiple bank accounts.
Open Banking is, in essence, a rule that tells banks that they need to share your financial info with other authorized providers. This includes your account balances and transactions which can be used to infer your regular payments and spending habits. With open banking you hold more control over your financial data.  

Open banking comes from a series of reforms of CMA (Competition and markets authority) alongside PSD2 or Payment Services Directive that came into force on January 13th, 2018.

The concept, however, was born in 2015 when the UK and EU figured that greater competition is needed in the payments industry. They wanted to open up more opportunities for fintech and other financial institutions to participate and increase transparency, security and choice for consumers. One of the main ideas is that consumers should be able to share their banking data with registered third parties securely and easily.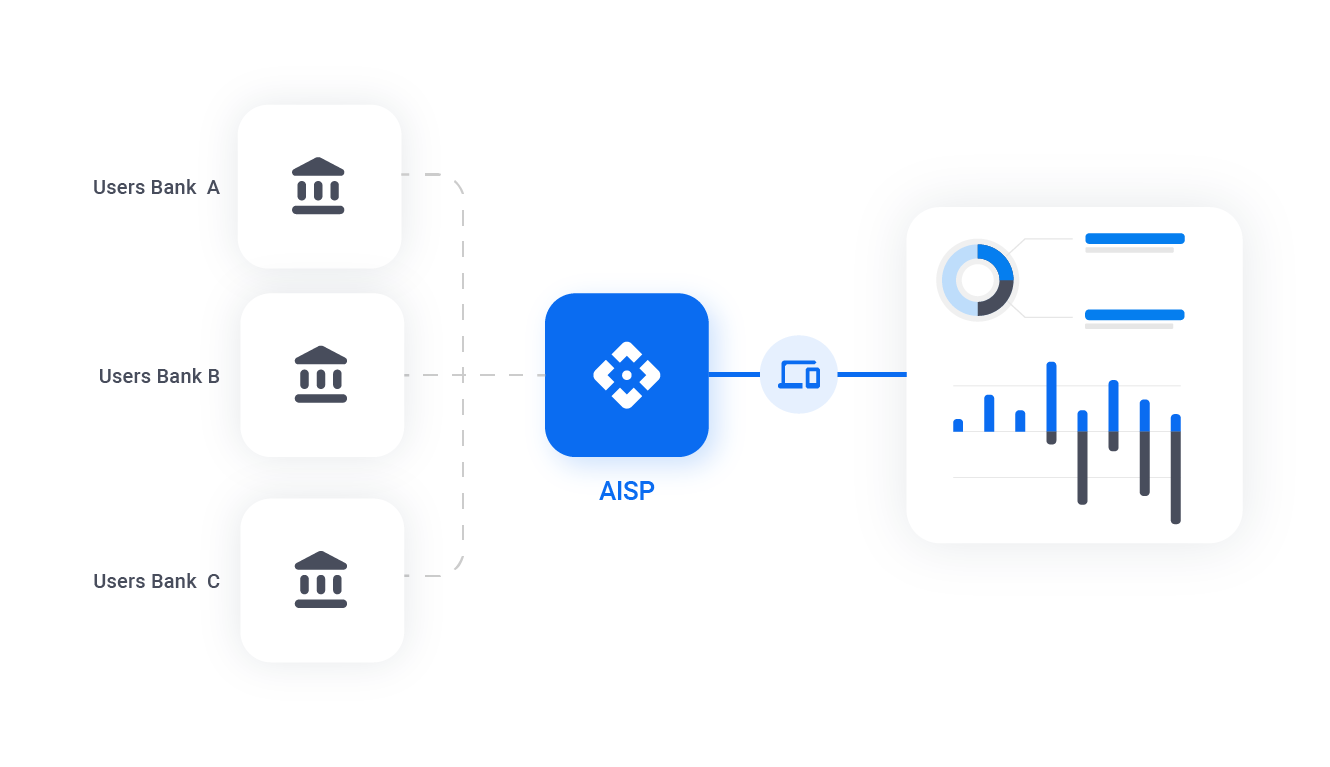 Why do we need this?
The future of finance is openness and interoperability. Secure sharing of information is instrumental to bringing this future to life. The open banking initiative allows core financial service providers to keep focused on the security and secure transfer of money. It opens the opportunity for new businesses to build a layer of services on top of the core technology like finance tracking apps, analytics, investment portfolios, etc. Banks will need to adopt the new approach in order to stay relevant.

The needs of customers are evolving more rapidly than any software ever can. Regulation is key to keeping customers safe while creating new solutions. Businesses compliant with PSD2 offer a higher level of security to their customers. It lets the digital infrastructure grow more rapidly by letting new players enter the market to offer solutions one layer above traditional banking services. This opens up the opportunity for better and more agile products that are loved by their users and the added convenience can lead to greater adoption of financial products and better inclusion.
What are all these acronyms?
Open banking encompasses a wide range of topics, concepts and terms. Here's a short glossary:
AIS
(Account Information Service) - a service or product that uses account information retrieved from a bank or financial institution.

AISP
(Account Information Service Provider) - a service provider authorised to retrieve account data provided by banks and financial institutions.

PIS
(Payment Initiation Service) - a service or product that can execute payments on your behalf at your bank or financial institution through PSD2 compliance.

PISP
(Payment Initiation Service Provider) - a service provider that can execute a payment transaction on the behalf of a customer.

PSD
(Payment Services Directive) - is a directive from 2007 to regulate payment services and payment service providers across the European Union (EU) and European Economic Area (EEA).

PSD2
(Revised Payment Services Directive) - is an expansion of PSD from 2015 aimed at creating a more integrated European payments market and securing and protecting customers.

SCA
(Strong Customer Authentication) - is a requirement of PSD2 that all electronic payments are secured with multi-factor authentication to increase their security.

What are the drawbacks?
There are many upsides of open banking but like any other innovation, there are certain drawbacks.

Any new tech can bring with it new risks. The security of customer's personal information and funds are top priorities. The concern is that when data is aggregated it is easier to exploit. Compliance with the directive should ensure that your data is always protected.

There is still a lack of a unified market when it comes to global finance and even regionally with Brexit there are obstacles to unifying the payment services across the EUR, EAA and the UK as one example.

Users that are tech savvy have been happy to jump aboard the digital banking trend and are likely to jump aboard the open banking train too. There is still a rooted distrust towards digital finance by some so adoption could still be slow, especially with more conservative customers like the elderly.

How do I see it in action?
The final deadline for compliance with PSD2 was as far back as September 14, 2019. Providers that offer AIS and PIS are still rare but the puzzle is coming together. Some are already offering AIS to their customers while PIS still has a way to go.

While we're on the topic, here's a little reward for reading this far. At GateHub we are developing an AIS solution for you and it's due out soon. Keep following our blog and/or social media to get the latest updates.