We are excited to bring you our new integration in partnership with Ripple. PayID is now live for our customers.
With PayID you can receive funds to your Primary wallet via the PayID open payments standard.
What is it?
It's a human-readable identifier for all your payments. It works like an email by abstracting the underlying addresses and networks and making it easier for you to share your accounts. It is not limited or tied to a specific blockchain and is completely open.
Like an email address, it is built from your unique PayID name (prefix), a separator ("$" acts as "@" in email addresses) and the service domain name (for us it's payid.gatehub.net).


How does it work?
You can create your new PayID via Add Funds - PayID.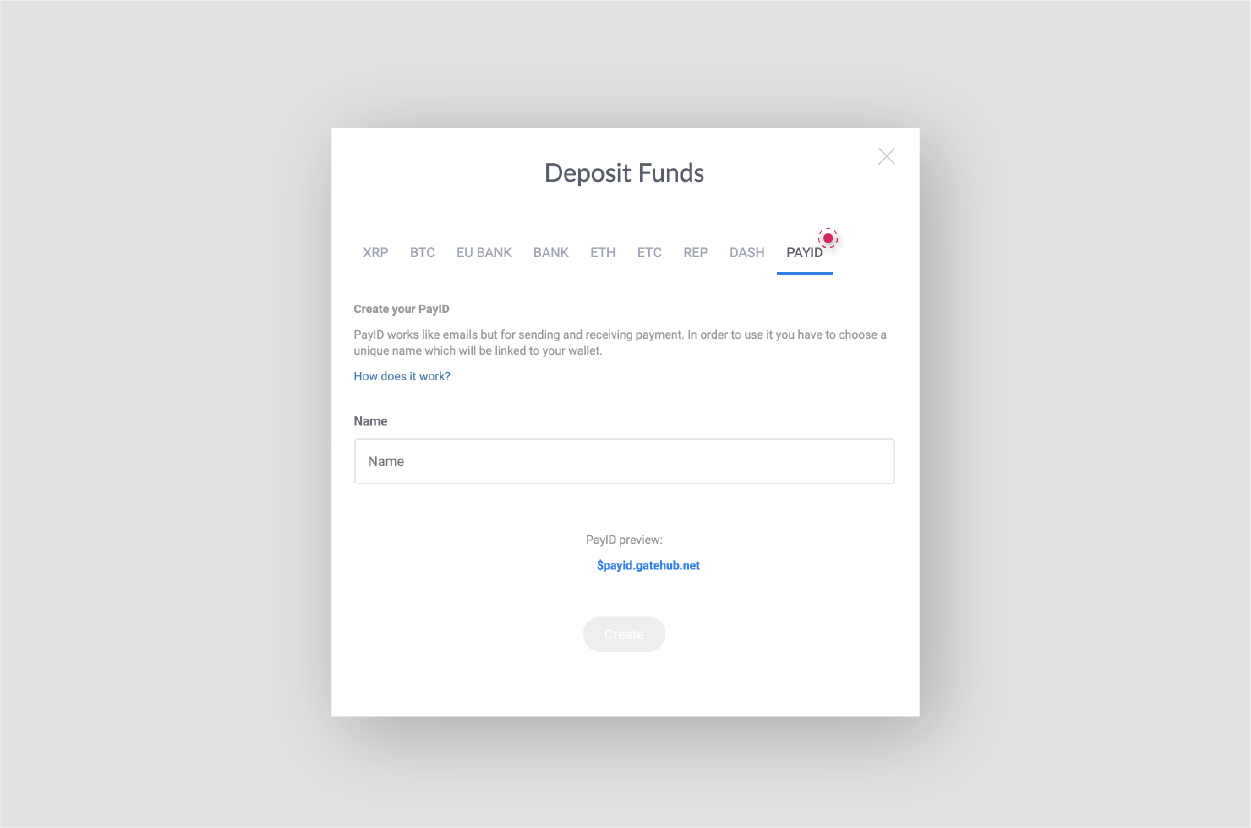 Your Primary wallet will be automatically added to your PayID address list. You can select an XRPL or Hosted wallet as your primary wallet. This is made possible by using the X-format addresses which can point to an XRPL address or to an address accompanied by a destination tag.
See our One-pager
By changing your Primary wallet, you will also automatically update your PayID's XRPL address.

For payments, the process is the same as sending to an XRPL's "r", "X" or "r" + destination tag address. You just need to type the PayID and click send to make an XRPL transaction to the address saved under that PayID.
PayID is not a standalone network and does not replace any existing networks. Services that support PayID and share payment rails can enable users to send payments over these rails. This makes it easier to transfer any form of value between users.
Some quick facts:
You can own one PayID per account
Your PayID is connected to your Primary wallet
You can change your Primary wallet and the PayID connection will be updated automatically
You can remove your PayID and create a new one
You can send to another PayID address

Future plans for PayID
PayID is ready to wrap other networks like Bitcoin and Ethereum. The service integrating PayID will need to handle the sending between networks, while your experience should be seamless.

At GateHub, we are aiming to add Cryptocurrency and FIAT support next to XRPL support in Q3 and Q4. The aim is to enable sending funds from one network to another using on-the-fly conversions. All this should be quicker, cheaper and more reliable than the current, fragmented payment rails.

The Open Payments Coalition is a group of 40+ companies across payment, tech and finance industries that seeks to break down siloed proprietary standards for digital payments. PayID is open-source, free and easy to integrate. Visit payid.org for more information.

Here is a list of all the companies next to GateHub that support the standard live since June 18:
Wallets
---
Exchanges
---
Payments Infrastructure
---
Non-profit
---
We would love to hear your thoughts and questions about this feature so we can help make it even better.