Did you know that financial technology was initially only implemented on the back-end systems of banks and different financial institutions? Having grown a lot since then, what are other uses of FinTech in 2020?
Believe it or not, whether we are checking our finances or just buying a t-shirt at retail fashion stores like Zara, FinTech is all around us. The term Financial Technology describes all companies that provide financial services through software or other technology and includes anything from mobile payment apps, insurance to cryptocurrency.
Let's discover some of the key areas that FinTech covers:

Banking and Mobile Payments - By using increasingly sophisticated technology, services have emerged that allow consumers to exchange money and payments online or on their mobile devices.
Stock market and trading - The development of stock-trading apps has been one of the most popular and most significant innovations in FinTech. In the past investors had to go directly to a stock exchange, but now, investors can trade stocks on their mobile device.
Cryptocurrency and Blockchain - Blockchain is a technology that is gaining traction in the finance industry. Though blockchain is still an emerging technology, many companies recognize the impact it will have and are investing accordingly.
Insurance - FinTech has disrupted the insurance industry as well, and the term InsurTech was born. Many FinTech startups are partnering with traditional insurance companies to help automate processes and expand coverage. InsurTech product offerings include everything from car insurance to home insurance and data protection.
Crowdfunding Platforms - Crowdfunding platforms enable users to send or receive money from other users on the platform. Crowdfunding also allows individuals or businesses to pool funding from a variety of sources all in the same place.
As you can see from the areas listed above, FinTech has really become a part of our daily lives. Are you wondering how all of this is possible? FinTech makes it a reality by using advanced technologies such as AI, 5G, big data and Robotic Process Automation (RPA).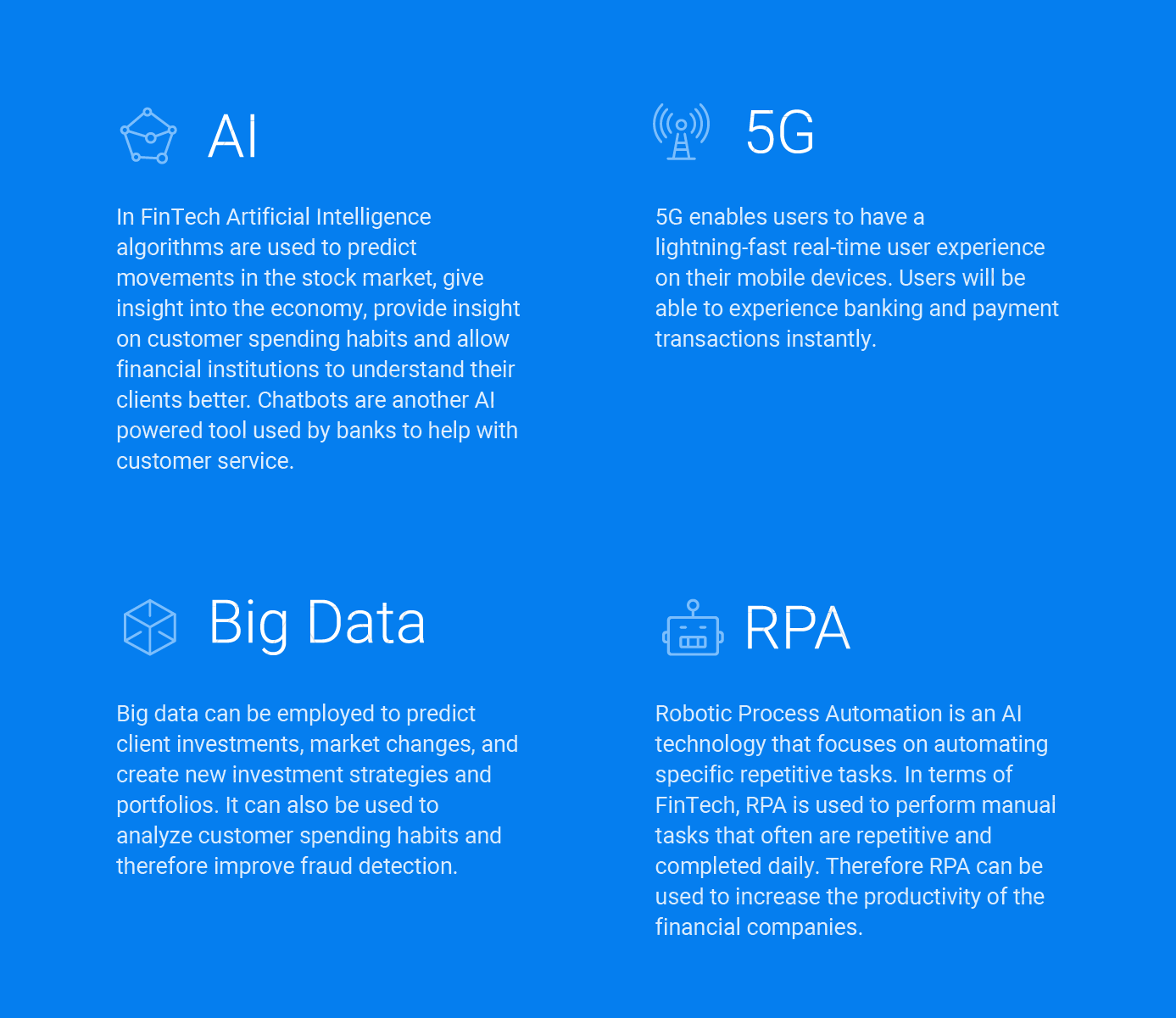 FinTech is a rising industry with virtually endless opportunities to improve our financial systems. The upcoming FinTech trends of 2020 are the rise of robo-advisors in stock trading, the use of blockchain in anti-money laundering efforts, the implementation of alternative credit reporting and the decentralization of global payments.

Now that you all have a better understanding of FinTech, its history, data and users, let's dive even deeper. Are you in?

Stay tuned and join us next week on our Blog, where we will continue to write about the world of bank digitalization and mobile payments.