The financial industry is continuing to evolve with the help of new emerging technologies and trying to adjust business models to reflect a more digital ecosystem. What can we expect from the banking world for the rest of 2020?
2019 has been an exciting year for financial institutions as the tech industry witnessed the rise of digital banks, large investments by traditional banks into FinTech, banking licenses, and big tech finally made a move into finance. Financial regulators around the world were busy introducing new regulations that would spur progress in the financial industry. With a busy year behind us, what can we expect for 2020? The industry continues the shift towards more digitized, open, and customized banking products and services that not only improve the customer experience but have a positive impact on the bank's overall business.

Jeff Hindle, a global segment leader for Mastercard, predicted this year's upcoming trends in an article posted by Banking Dive:
Digital Transformation - In 2020, digital transformation is the norm, and those who do not change their systems and processes will fall quickly behind.

Data & Personalisation - Customers are choosing their bank based on the degree of customization and support they receive through the bank's digital channels.

Artificial Intelligence - Nearly 75% of large financial institutions are in the process of implementing AI strategies, according to Business Insider. The benefits of it are expected to be seen this year.

Open Banking - Open banking is becoming mainstream in the UK and Europe with an increase in the general public's understanding. That is why more and more people will be using open banking-powered applications.

Platform-based Banking - The effects of open banking, lenient regulation for FinTech, and customer demands for end-to-end customer journeys have paved the way for Banking-As-A-Service to emerge as a legitimate revenue model for traditional players.

Cloud Computing - While most banks still rely on local server systems, there have been shifts in recent years, with traditional players moving to the cloud to benefit from modern counterparts. In 2020, we expect more banks to take advantage of the cloud, and some will make a move to public cloud platforms.
What do the people think the upcoming trends will be? As part of the research for the 2020 Retail Banking Trends and Priorities report, a survey was conducted to figure out what do people think the upcoming trends of 2020 are. It comes as no surprise that the top trend is removing friction from the customer journey, followed by the use of new technologies and the use of APIs and open banking.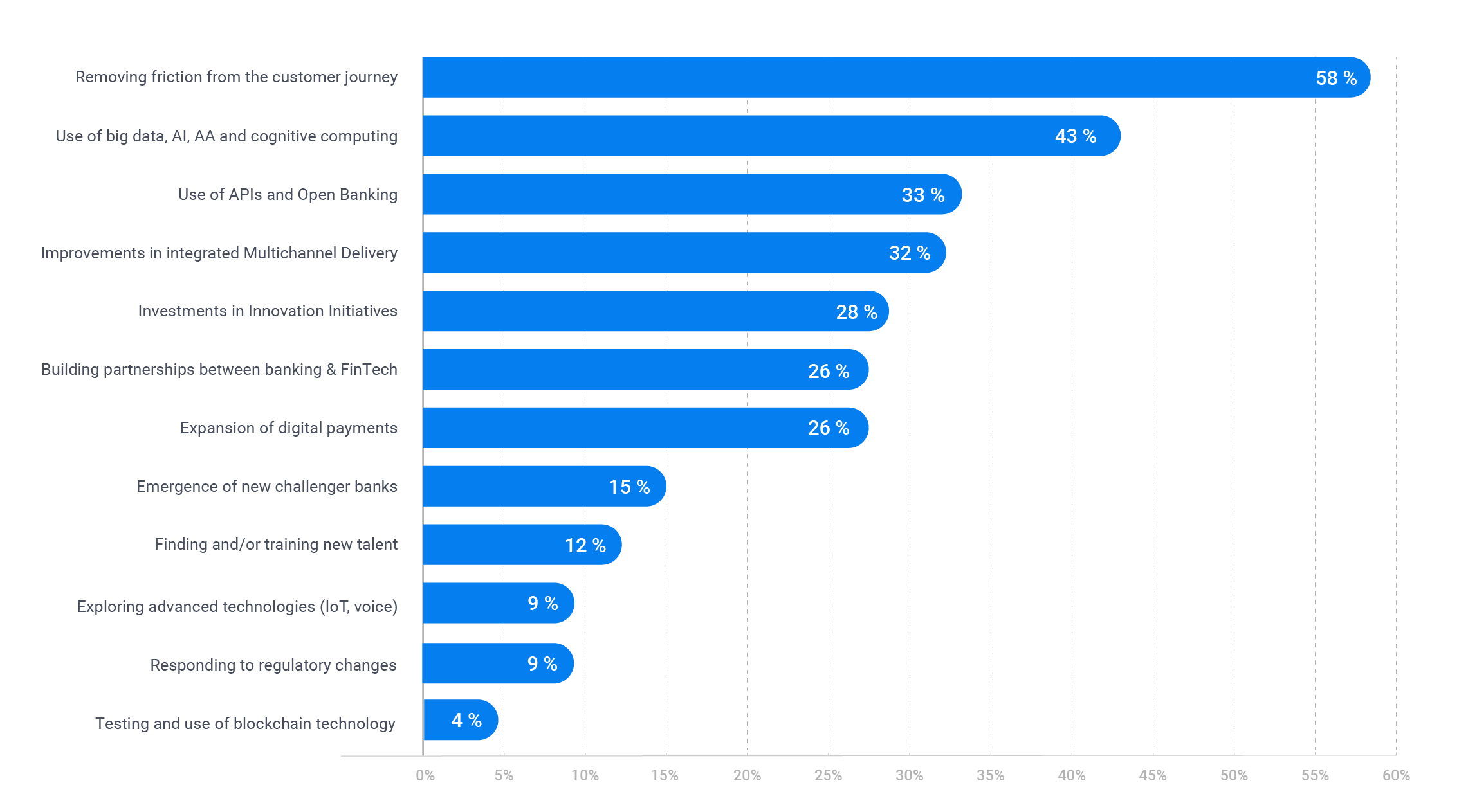 Trends indicate that the best way for banks to protect their profitability and improve efficiency in 2020 is to focus on the customer and to adopt digital banking and digital lending solutions. These include online account opening, mobile account opening, etc., the kinds of innovations that will help ensure a seamless customer journey and ultimately keep those old customers from jumping ship to digital platforms.